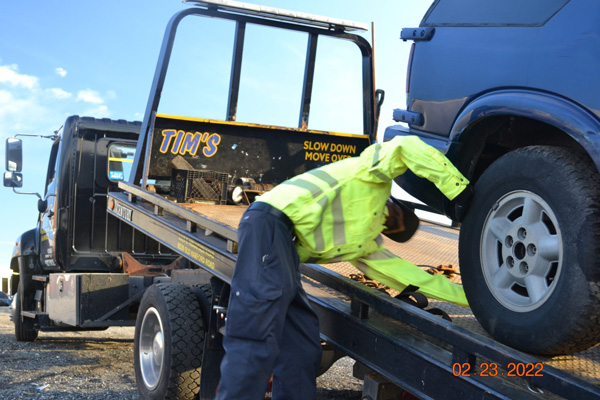 While driving along the roads of different cities, there is always a risk of something getting damaged or inoperable. When you are having an emergency with your vehicle, getting road service immediately is important for your safety.
Here is a list of different road services that are offered:
Towing service: Towing services are required when it is no longer safe to drive your vehicle. There are a multitude of reasons why this may be the case, but requesting a towing service will make it convenient and safe for you to bring your vehicle to Tim's Automotive.

Battery jumpstart service: As you put more miles on your vehicle and the lifetime of your vehicle's battery shortens, eventually it may begin to lose its power. However, even just running a fan or sound system without the engine running can cause the battery to die. Whatever the case may be, you may need to get a battery jumpstart service if your engine is not starting. If this is the cause, it is a simple procedure that will quickly get you back on the road.

Flat tire service: Whether there is damage to the tire's valve system, corrosion that causes wheel/tire bead contact, or something punctures them, calling for road service is important. Driving with flat tires is very dangerous and can cause further damage to your vehicle. More importantly, flat tires can make your vehicle incredibly hard to control – which could cause you to hurt yourself and your passengers. Road service will replace your tires with a spare so you can safely drive your vehicle to us at Tim's Automotive to get your tires fixed or replaced.

Lockout service and locksmith service: Getting locked out of your vehicle is possible. Sometimes, mistakes like leaving the keys in the vehicle happen. This would make you unable to open your door and access your vehicle. A locksmith can safely unlock your vehicle without causing any damage so you can head back to the road.

Fuel delivery service: If you have a fuel-powered vehicle and run out of fuel, you will need to get a fuel delivery service immediately. Powering your engine once you have no fuel is impossible. At the same time, not having fuel can be dangerous, especially if you are stuck on a major road.

Extrication or winching service: Different road conditions can cause your vehicle to get stuck. If your vehicle is stuck, request road service to safely dislodge your vehicle.
Your Reliable Shop for Road Service
If you are in Parkville, Parkville, Maryland, Perry Hall, Maryland, Towson, Maryland, or beyond, look no further than Tim's Automotive in Parkville! Road services are essential if you are experiencing trouble with your vehicle while driving. We've been repairing vehicles since 1987, and our team of knowledgeable technicians can take care of your vehicle, no matter the model or make, including Chevrolet, Ford, Chrysler, and Dodge. We are dedicated to providing top-notch customer experience and will make sure any issues with your vehicle are fixed as soon as possible.
Reasons You Should Do Business With Us:
Transparency
Honesty
Integrity
We are Experts
Years of Experience
Don't hesitate to schedule an appointment with Tim's Automotive in Parkville today! You can schedule an appointment with us online or give us a call at (410) 248-9029. Tim's Automotive - We Will be Here When You Need Us.