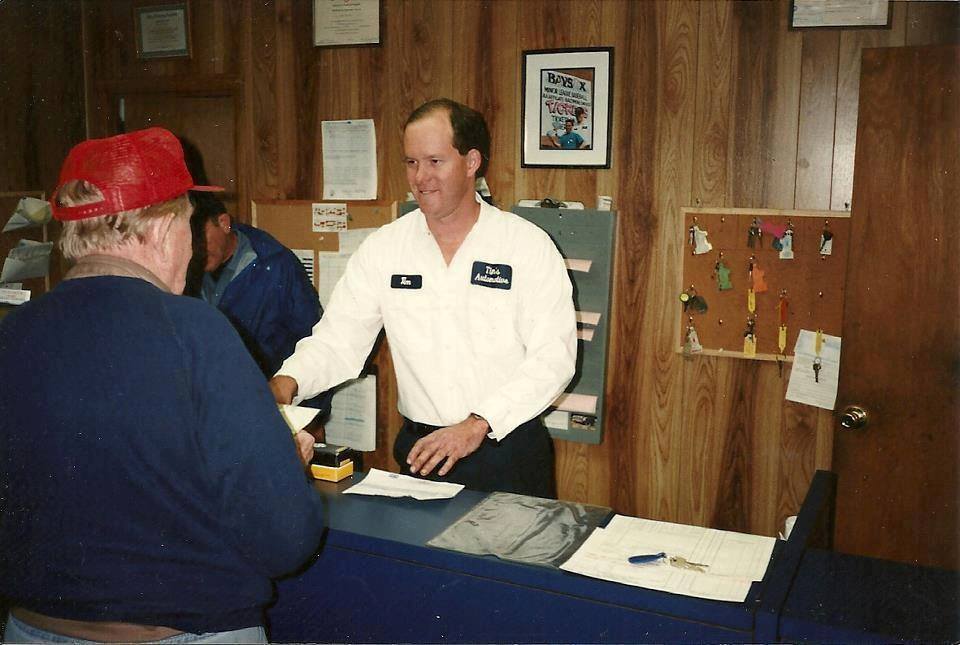 WHO IS TIM?
Tim Bonner was a child with a vision, a dream of having his own automotive business. As he grew up in Baltimore, Tim had an obsession with cars. He had three siblings and two loving parents. His father, Gene was a surety underwriter and musician, while his mother, Shirley, was a homemaker.
When Tim entered high school, he worked on cars in the parking lot. He dreamed of having his own automotive shop. In his senior year, Tim started a grass cutting business to save money for his shop once he was finished with school. Post high school, Tim went to Harford Community College, where he studied automotive repair.
Once Tim finished school, he worked as a technician for Montgomery Wards Automotive Centers until he saved enough money to open a small shop on Belair Road in Baltimore, MD. He opened in 1987 and from that point, Tim's Automotive grew.
Tim is not only a small business owner of more than 32 years, he is a husband, an avid softball lover, football fan, and baseball fan, but he is also a father. After he opened his business, Tim married his wife Jane in 1995. They have 2 children, Elaina in 1999 and Annemarie in 2001.
Besides being a businessman, Tim enjoys playing softball, going to the beach with his family, and especially enjoys Baltimore sports.
Although Tim has worked hard for thirty-two years, he continues to grow his business every day, while also remaining true to the reason why he started it in the first place. He had a dream, and with his family behind him and people supporting him, Tim was able to be successful.
His hard work and dedication to his business have allowed him to provide for himself and his family, while also having the honor of being named, Small Business Person of the Year in 2015.
Written by: Annemarie Bonner
WHAT IS TIM's AUTOMOTIVE?
In 1987 in a small shop on 5500 Belair Road, Tim's Automotive was born. A business created by Tim Bonner, it was an automotive shop. In the business's first year, Tim served as every job. He was the technician, the receptionist, even the custodian. By the end of the first year, the first Tim's tow truck was purchased, making Tim the on-call 24-hour driver as well. Despite the fact that the first year's revenue was only $35,000, he still persevered and kept working towards his goals.
In his second year, Tim hired his cousin as a technician, another technician, and also a tow truck driver. Once responsibilities became greater in 1988, his brother Mike joined forces with him, allowing another person to handle the operation and property records, organization planning, daily accounting, and towing dispatch. Once Mike started, he ran the towing aspect while Tim focused on the development of the garage. In April of 2000, tragedy struck Tim. One of the commercial units caught fire due to a default in the manufacturer's product. "I lost my dream", he said to his sister. However, this would turn out to be just the beginning of his success.
In 2002, Tim moved to his current location in Carney on 3015 East Joppa Road. The towing business was booming for Tim and new employees were hired. Mike could no longer handle towing on his own, so in 2007, Tim's sister Pat joined the team. Pat committed to stay and in that same year, a second location specifically for towing was opened on 8528 Old Harford Road, originally named, Tim's Auto Battery & Electric, now Tim's Automotive.
Despite challenges along the way, both economic and social, Tim was able to grow his dream into reality. Presently, each branch of Tim's combined employs 46, both part-time and full time. Tim's business is not done growing yet, and they continue to gain new customers, while also serving ones who have been around since the beginning.
Written and contributed by Annemarie Bonner